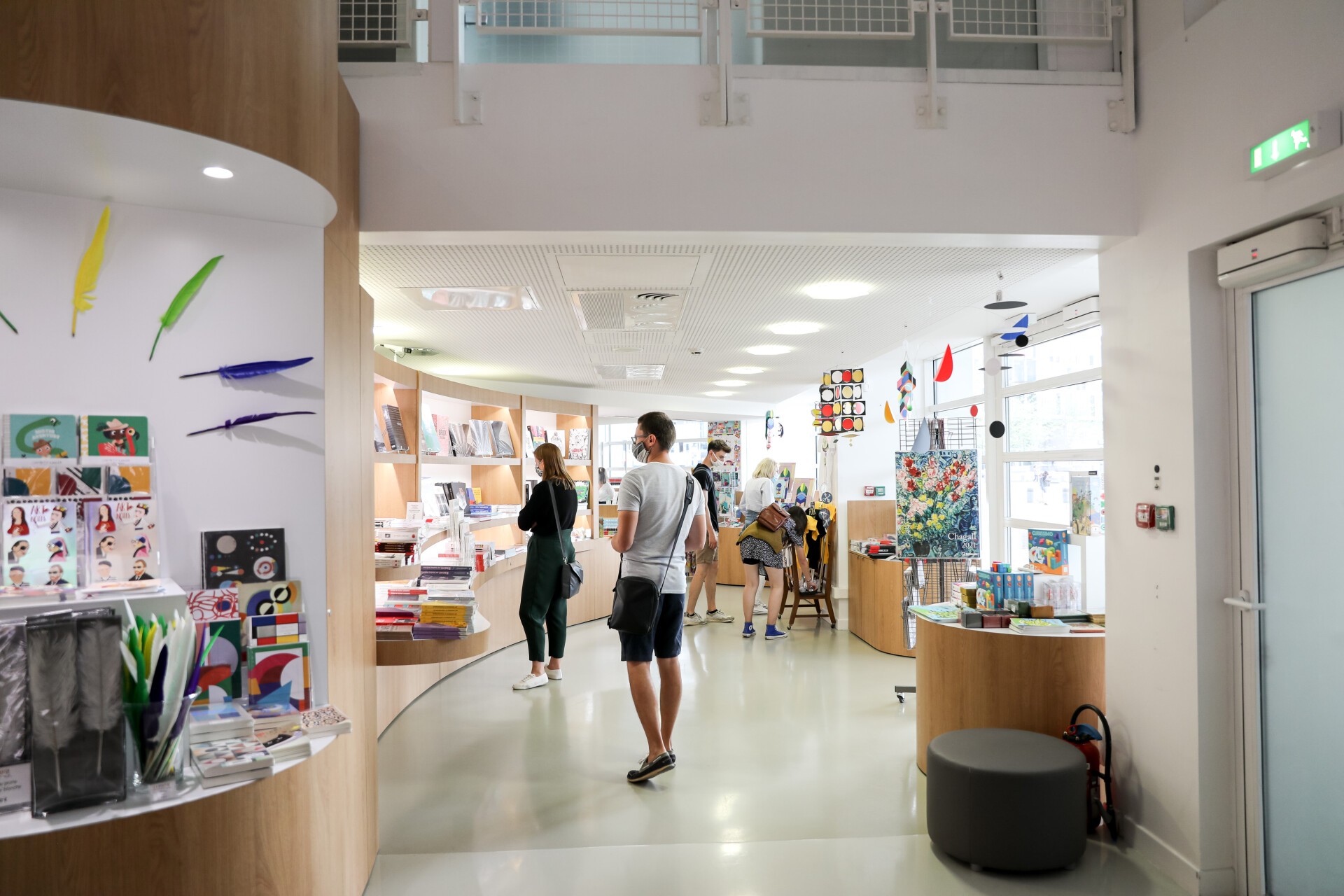 A variety of quality works
The Centre Pompidou-Metz publishing house offers a wide range of bookstores, exhibition catalogues, artists' books, children's books, essays, etc.
Centre Pompidou-Metz books are on sale at the Centre Pompidou-Metz bookshop and are available in all bookshops (diffusion/distribution by Flammarion/UD)
The Centre Pompidou-Metz's publications reflect the exhibitions and the institution's activities as a whole, and are a great platform for exchange between artists, curators, researchers and graphic designers. The Centre Pompidou-Metz pays particular attention to the accessibility and quality of its publications.
Exhibition catalogue - Suzanne Valadon: A World of Her Own

Nearly sixty years after her last retrospective in France, the Centre Pompidou-Metz is paying tribute to Suzanne Valadon with an ambitious monograph that has been conceived as a portrait. The accompanying catalogue offers a rereading of her work in all its complexity and makes it possible to resituate it in the history of art. Essays by Chiara Parisi, Philip Dennis Cate, Jean-Paul Delfino, Daniel Marchesseau and Yelin Zaho and contributions by Sophie Bernal, Paula Birnbaum, Sophie Bramly, Magali Briat-Philippe, Louise Chennevière, Gwendoline Corthier-Hardoin, Gilles Genty, Stéphane Guégan, Céline Le Bacon, Claire Lebossé, Constance de Monbrison, Saskia Ooms, Florence Saragoza and Jeanine Warnod shed light on this resolutely contemporary artist's life which spanned the 19th and 20th centuries, and on her practice and her uncompromising œvre.

---

Suzanne Valadon. Un monde à soi Éditions du Centre Pompidou-Metz.

Exhibition catalogue - 'Repetition'

Initiated with Mimèsis. Un design vivant, the series 'Dans les collections du Centre Pompidou' is devoted to the exhibitions organised by the Centre Pompidou-Metz that draw on the collections of the Centre Pompidou, Musée National d'Art Moderne. Each volume spotlights around fifty works in the exhibition and is lavishly produced (tinted paper, Swiss binding) with a simple design. Photographs of selected works are accompanied by in- depth texts explaining their history and meaning. The second one will be published in conjunction with the exhibition La Répétition and is written by Éric de Chassey, curator, art historian and director of the Institut national d'histoire de l'art, and Margot Sanitas, research assistant.

---

La Répétition Éditions du Centre Pompidou-Metz.

Exhibition catalogue - Les Portes du possible

The publication accompanying the exhibition on its journey is not only designed for sci-fi experts and connoisseurs, but also for the general public and anyone who wants to delve deeper into the genre. With over 200 works, including around one hundred with a commentary, it boasts short, unpublished essays by well-known science fiction authors:
Alain Damasio, Catherine Dufour, Sabrina Calvo, Kim Stanley Robinson, Nadia Chonville, Laura Nsafou, Michael Roch and Philippe Curval.

No drones, just "real" sentient contributions. Each guest writer provides an original introduction to one of the exhibition's themes, as well as a glimpse of their own literary universe. Together with the artwork, these essays help to bring imaginary worlds together to open the gates to other possible universes.

If sci-fi is a powerful tool for emancipation, a refuge as much as a refusal, its highly specific jargon, beginning with the wide range of sub-genres, can be confusing. This is why the rich catalogue is rounded off by a glossary with 50 articles written by Ariel Kyrou. An abundant, captivating work to explore the links between the visual arts and science fiction.

---

Les Portes du possible Éditions du Centre Pompidou-Metz.

Exhibition catalogue - Mimèsis. Un design vivant

This book is the first in a series of works conceived with the curators of the projects, based on the Centre Pompidou collection presented in Metz.

The influence and imitation of the living through design, from modernity to the total fusion between the inert and the living in current scientific and industrial creation, is one of the main threads of the research carried out by the department responsible for design and industrial creation at the Centre Pompidou. Drawing a link between the biomorphism of modernist design and today's biomimicry, or even biofabrication and the recreation of the living through digital design, the exhibition will also show new acquisitions by major designers (the Serge Mouille, Branzi, Lovegrove and Hansmeyer collections), and will work in conjunction with innovative companies in the design sector, so as to pay attention to the industrial world, which has also been weakened by the global health crisis.

---

Mimèsis. Un design vivant Éditions du Centre Pompidou-Metz.

Exhibition catalogue - Le Musée sentimental d'Eva Aeppli

The first monograph in French devoted to the artist, the book brings together three essays - by Chiara Parisi, Marie-Louise von Plessen and Marie-Laure Bernadac - as well as a richly illustrated biography by Anne Horvath and a letter-manifesto by the artist (unpublished in French). It also includes a catalogue of works that invites the reader to discover Eva Aeppli's career and her timeless and protean work in chronological order, from the first hand puppets to her human-sized sculptures or her bronze heads.

---

The Sentimental Museum of Eva Aeppli
Unter der Leitung von Chiara Parisi und Anne Horvath
Éditions du Centre Pompidou-Metz.

Exhibition catalogue - L'Art d'apprendre. Une école des créateurs

Handy, light and nourished, the publication accompanying the exhibition The Art of Learning. A School for Creators is conceived as an abundant manual, providing easy access to the works on display through short notes and more in-depth portraits of artists, as well as three original essays providing background research and reflection (by Yves Citton, Anna Colin and Déborah Laks). A dozen authors from various backgrounds have contributed to the book: historians, teachers, educators, critics, curators, and even students, all contribute their voices and perspectives to this common interest in pedagogy, which is driving much current research.

Twenty or so texts by exhibited artists have also been collected, and sometimes translated, recalling their often manifest, sometimes visionary positions. The officeabc studio (Catherine Guiral and Brice Domingues), accompanied by Thomas Bouville, was responsible for the graphic design of this publication. Driven by a desire and a concern for clarity and wandering, they have created a human-sized object, with a sensitive architecture, light for the hand and comfortable for the eye. They also wanted a sensory object, including a variety of tactile sensations and a multiplicity of images. Numerous illustrations accompany the book - views of works, film stills, but also archives of schools or workshops - allowing one to immerse oneself in the diversity of the practices presented in the exhibition, and testifying to situations of transmission at school, at the university, in the workshop, in the street or in nature.

---

L'Art d'apprendre. Une école des créateurs
Éditions du Centre Pompidou-Metz.
Edited by Hélène Meisel.