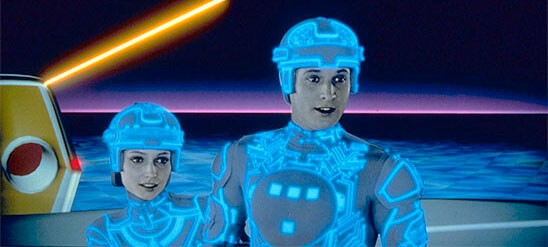 price
15 € / 10 € pour les titulaires du PASS-M et PASS-M Jeune
Une nuit culte !
Le Festival du film subversif de Metz et le Centre Pompidou-Metz s'associent autour d'une nuit de la Science-Fiction qui va nous plonger dans le film de genre des années 70 et 80.
Dans le cadre de la session « Corps Hybrides ».
21:00 | INVASION DE LOS ANGELES
de John Carpenter - 1988 - 93'
Un ouvrier au chômage découvre une paire de lunettes noires et découvre un monde effrayant : de nombreux humains sont en réalité des extraterrestres aux visages hideux et écorchés, les panneaux publicitaires ordonnent la soumission dans des termes dignes de Big Brother. Avec un autre ouvrier, il décide d'affronter les envahisseurs.
22:30 | PHASE IV
de Saul Bass - 1974 - 84'
Après un mystérieux évènement cosmique, d'étranges structures et motifs commencent à apparaître dans le désert. Les scientifiques découvrent que ce serait le travail de fourmis très évoluées qui organisent d'inquiétantes expérimentations sur les êtres humains.
00:00 | ROCKY HORROR PICTURE SHOW
de Jim Sharman - 1975 - 100'
Un jeune couple tombe en panne dans un petit chemin isolé. Avisant un château à proximité, ils s'y rendent dans l'espoir d'être secourus et sont accueillis par une bande qui les entraine dans des fêtes excentriques. Malgré un échec cuisant à la sortie, les fans ont fait de ce film un objet cultissime célébré à chaque fois lors de sa projection.
02:00 | TURBO KID
De François Simard, Anouk Whissell, Yoann-Karl Whissell - 2015 - 95'
Dans un monde ravagé par l'apocalypse, un jeune garçon passionné par les bandes dessinées survit à l'hiver nucléaire en échangeant contre un peu d'eau les objets qu'il trouve dans les ruines des Terres Désolées. Mais l'enlèvement de son amie Apple par un sbire du maléfique Zeus le forcera à affronter ses peurs et à devenir un héros malgré lui.
03:45 | TRON
de Steven Liserger - 1982 - 96'
Los Angeles. Le jeune Flynn, génial concepteur de jeux vidéo, se retrouve propulsé dans un jeu vidéo où vit une micro-civilisation électronique d'apparence humaine. Il doit combattre pour sauver sa vie au sein des jeux qu'il a lui-même conçus.
En partenariat avec le Festival du Film subversif de Metz
Dernière entrée à 21h30 Petit-déjeuner offert à la fin de la nuit
exhibition
Nov 05, 2022
→
Apr 10, 2023
Art & science-fiction
Grande Nef et Galerie 3

The exhibition is in line with critical and socially engaged science fiction that explores the flaws of our immediate future.